Art Country Canada: Original Art & Custom Framing
Art Country Canada strives to create a unique experience for all of their customers. They have hand carved wood, soapstone, and painted masterpieces that are beautifully showcased in their gallery on Main Street, Canmore, AB.
Seeing the original works from so many wonderful Canadian artists at Art Country Canada is a treat for the eyes. Their gallery in downtown Canmore is their largest original gallery, featuring artists such as Robert Bateman, Darren Haley, Andrew Kiss, Brent Heighton, John Einerssen, Alan Wylie, David Daase, Fred Buchwitz, and many more.

With their gallery of soapstone carvings, they have created gorgeous displays that captivate the eye and show the truly amazing talent of each artist.

Art Country Canada brings in all different types of original paintings, from an impressionist view to ultra-realism, that look as if you're staring into a photograph taken right in front of you. If you don't believe it, go and see all the amazing original works, at 729 Main St. Canmore, AB.

Many incredible original paintings are showcased at the Art Country Canada original art gallery. They also have a stunning inventory of limited edition prints and giclee on canvas or paper from many of the world's most collected artists. Every day at Art Country Canada they are adding new pages on their website, introducing new artists, and showcasing their own unique framing for original works of art. Much of their incredible framing can be done for fine art, especially the new Giclee on Canvas.
Treat your eyes and visit the Art Country Canada gallery on Main St in Canmore or visit their website to find your next piece of art.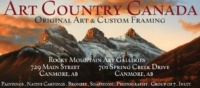 An art gallery on Main St, Canmore, Alberta that prides itself on selling top quality original paintings and excellent, mint condition prints and canvas.