Building for the future...respecting the land forever.
Bow Valley Builders & Developers Association (BOWDA) is dedicated to a "sense of place" by ensuring cooperative and sustainable growth is undertaken and managed responsibly by the development industry, the Town of Canmore, and our growing population.
Balancing demand for physical and economic growth with environmental sustainability/protection can sometimes be a tricky process. BOWDA's membership of builders, real estate developers and supporting businesses are dedicated to following the most responsible path to this end. 
This Olympic year, 2018, is the 30th anniversary of Canmore's ascendance onto the world stage, resulting from the 1988 Winter Olympic Games we hosted for the Nordic Ski competitions at the Canmore Nordic Centre.
 As a direct result, Canmore has become a desirable place to live, raise a family, start a business or visit for a vacation.  Our continued economic health and growth must meet this demand in a responsible way by respecting the very landscape which  makes our community so attractive to those who wish to come to Canmore.
For more information, click on the link below and read about "Building the Community of Canmore" from Bow Valley Builders and Developers Association.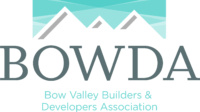 The Bow Valley Builders and Developers Association (BOWDA) is a membership driven networking and advocacy group focused on the needs of the building & development industry and related business in Canmore and the Bow Valley
---
---