It is a sight to Behold!
The raising of the steel framework of the new Catholic Shrine Church of Our Lady of the Rockies Parish in Canmore, Alberta is almost complete. It is worth driving or walking by the construction site on Palliser Trail, situated at the base of Silvertip Resort. You will be amazed! It is changing daily and to date the crowning glory of the project was when the Cross was hoisted on top of the bell tower. Once completed, it's visibility from the Trans Canada Highway will make The Parish an iconic landmark for Canmore and the Bow Valley.
Our Lady of the Rockies Parish started this building project when it was identified in 2003 that the Sacred Heart Church would need to be replaced. In 2013, after the land was graciously donated by Mr. Guy Turcotte , owner of Stone Creek Properties, several Committees were formed to come up with building requirements and to select the architect and building contractor. After some unanticipated delays and challenges, the actual construction started in the fall of 2018 and this is where we are today, with the building well underway.
There are a lot of things that differentiate this building site from countless others, one being that this will become a sacred place in the Bow Valley. Several notable events in the building process have come and gone, like our ground breaking celebration. On that day, clouds in the blue sky appeared overhead, in the shape of angelic, cross and dove formations. Coincidence? A blessing from above? Stay tuned, more will be revealed.
We invite you to become part of the history and help us build this beautiful place of worship.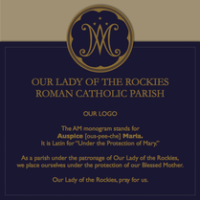 We are in the process of building our new church to be called The Shrine Church of Our Lady of the Rockies.
---
---