Leave the Driving to Us! ~ Explore with Roam
Roam Transit is operated by the Bow Valley Regional Transit Services Commission and is excited to be offering transportation options that continue to grow and expand. With several routes that take you right to the most popular hiking and sightseeing destinations throughout the Bow Valley, you'll be able to take more time to enjoy the scenery than worrying about finding parking.




Roam Transit operates an environmentally friendly transit service with an expanding fleet of both 100% battery electric and hybrid buses throughout Canmore and the Bow Valley. Our service allows residents and visitors to move freely and cost effectively without the use of a private vehicle. Additionally, all services are accessible as well as providing space for bikes and skis. Whatever your reasons for embracing transit, with this service you can Roam where you want, when you want.
The services that Roam currently offer in Canmore are:

Canmore Local (Route 5T & 5C):

For residents and visitors in Canmore the Roam local service is free of charge. Route 5C services the Cougar Creek area of town, and the 5T provides service to the Three Sisters area. Each route departs from the downtown 9th Street Transit Hub seven days a week.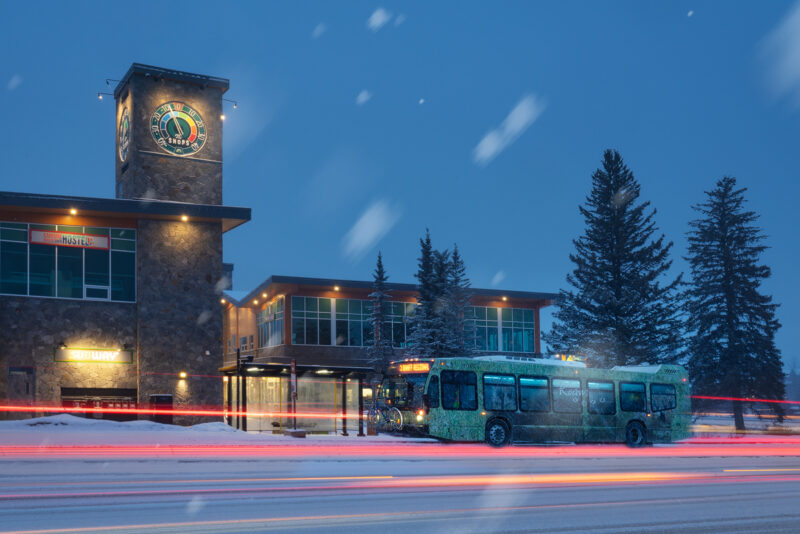 Photo by Nick Fitzhardinge
Canmore/Banff Regional Service (Route 3):

Service operates daily between Canmore and Banff, providing transportation for residents and visitors.
This service is popular with commuters and cyclists as well as people attending events or sightseeing.
Roam Transit is the most convenient way to get to and from the most popular locations throughout the Bow Valley. Visit the Roam Transit website, or social media links, to discover multiple routes, fares, and details to the places you have read about in books.
When in the Bow Valley, Roam!

Roam is the public transit system for the towns of Canmore, Banff, and Lake Louise and in the Bow Valley of Alberta's Rockies. The system is managed by the Bow Valley Regional Transit Services Commission.