S&T Properties
Here at S&T Properties, we consider it an honour and a privilege to care for your vacation property and host guests in the beautiful, well maintained spaces in the majestic Canadian Rockies (and beyond!).
We provide complete property management services, including investment advice on the highest ROI property, renovation management, styling co-ordination, 24/7 guest communication and cleaning/maintenance oversight. Our investors have busy professional and family lives, so we aim to make it as easy as possible for our investor to relax knowing their vacation property is taken care of, and their revenue is optimized.
We take delight in each of our properties and treat them as if they were our own. By working with us, we eliminate the hassle of vacation rental property management making it stress-free.
Our Services Include:
24/7 Guest Services and Hospitality: We answer day and night via phone, email or text message. Our highly trained hospitality staff will manage any inquiries and solve any problems whilst prioritizing the guests' experience.
Digital Marketing: We produce high-quality, compelling copyright and property descriptions for vacation rentals. We optimize listings on Airbnb to attract more guests and implement SEO strategies to improve online visibility.
Housekeeping: We have a team of housekeepers and handyman that we organize to clean and maintain between turnovers. We schedule monthly deep cleans to ensure that the property maintains a high level of cleanliness. We organize for all linen and towels to be professionally laundered off-site and provide fresh ones for each new guest.
Photography: We coordinate professional onsite photos of both the interior and exterior of the property and style the photoshoots for maximum effect.
Interior Decoration and Renovation: We source and furnish units with our in-house interior decorating team. S&T coordinates regular maintenance and decor updates to keep your property up to date and desirable. We work with investors to elevate and curate their spaces based on each investor's budget and goals.


We are proud to offer our clients the option to choose from a fixed-rate business model lease or a percentage-model lease.
Email us at [email protected] or call us at 587-983-6164 to learn how you can relax and earn passive income while owning a vacation property!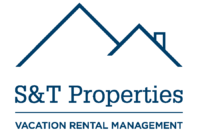 S&T Properties is a Full-Service Property Management company specializing in vacation properties in the beautiful Canadian Rockies.