Optimal Angling Co. - Year Round Fishing in the Bow Valley
My story with fishing began in 1993 as a toddler fishing with my father in Ontario. We would target perch, bluegill & crappy as well as smallmouth bass & walleye on Lake St. Clair and other species on The Great Lakes. As I grew older and spent more time outside, my passion for the outdoors bloomed into a bigger respect for nature and the ecosystems I was surrounded by. I've always been enamoured with the process of getting a fish to bite, setting the hook & fighting the fish on the line. So much so, that I continued to fish religiously until I moved to Lake Louise as an adult. While there, I worked in customer-service based roles, which allowed me to embrace my enjoyment of establishing a connection with people through conversation and entertaining them with stories and knowledge. After a handful of years in the hamlet of Lake Louise, I moved to Canmore and immediately took up fishing again; only this time, I'd be fishing some of the most challenging yet beautiful lakes and rivers. Being surrounded by these mountains, having the potential to catch trophy fish had a way of cleansing the soul. After remembering how meditational fishing had been for me, I decided to put my passion for customer service and fishing together to create Optimal Angling Co.
Having the experience of watching nature come alive as you sit in a fishing boat is something everyone could benefit from. Fishing frees me from stress and allows me to truly relax, which is what I hope it brings to all my clients. Spending a day fishing offers an opportunity to recharge and can give you a break from the chaos of the world. If you're in need of taking a step back to see the bigger picture, a day of fishing is sure to bring that perspective. It's beneficial to spend time outside in the digital age we're living in. While you're out in the elements, you have a chance to see wildlife and nature in a way you haven't observed before. You might witness bears foraging on the shore, a wolf walking across a frozen lake in the winter, a pair of bald eagles overhead, or a moose walking the lake shore. If you're quiet enough, they won't even mind that you're there. It's a special feeling being accepted by mother nature in all her glory.
Optimal Angling Co offers year round fishing in the Bow Valley and surrounding areas, where you can learn first-hand about the rich history of this Treaty 7 land. In the autumn months we offer float fishing on the Bow River, as well as lake fishing while the pre and post-spawn feeding begins! The winter season boasts jaw dropping mountain scenes with either crystal clear ice or totally snow covered landscape. The snow allows the impressive contrast in the mountain-face to shine through. The silence is deafening until you feel the bite of a fish or you hear the bells on the set rods around us. We offer a heated portable shelter that's fully insulated and can accommodate 4 people comfortably with the heater running. For those cold days, you'll be nice and warm inside, protected from the elements. On nice days you're encouraged to join us in the raw outdoors as it makes for the perfect image to remember a truly Canadian experience. During the winter months I most enjoy chasing Char species (bull trout and lake trout). All three lakes we ice fish have one or the other, which is fantastic. Spray Lakes Reservoir has active fishing for lake trout from first ice to last ice with the potential to land a true giant! When in the Kananaskis Lakes area, the bull trout grow to impressive sizes with some fish being caught over 12lbs.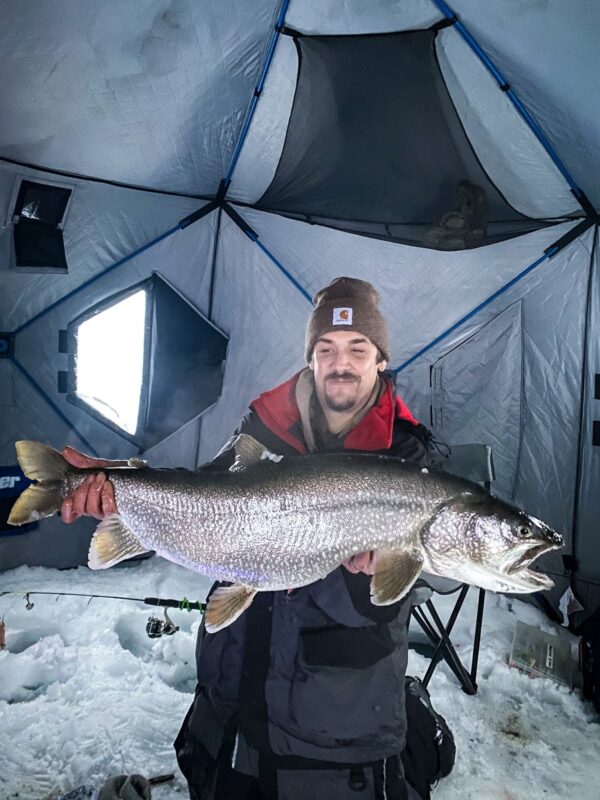 In the spring, enjoy a half-day walk and wade trip down the Bow River with the intent of targeting brown trout using spinning or fly fishing gear (weather permitting). As the local lakes start to ice-off, it becomes favourable to find big hungry fish in more shallow reefs, ready to eat bait as it passes them. As summer enters the Bow Valley, Optimal Angling offers half and full days floating the Bow river for brown trout. Whether you like dry fly eats, fishing under an indicator or chucking streamers, we've got you covered. Not into fly fishing? No problem, we can do spin fishing on the river too and you may even get a nice bull trout that's hugging the bottom. Summer is the perfect time to fish the high mountain lakes of the Kananaskis region as the surface temperature can remain in the high 50°F but the deeper you go, the cooler the water will remain. In summer while lake fishing from our boat you can expect to catch; bull trout, rainbow trout, cutthroat trout and lake trout as well as rocky mountain white fish. My personal favourite fish to target are rainbow and cutthroat trout, but I can't limit it there. There's no better feeling than setting the hook, your reel starting to scream as your spool starts to empty and all of the sudden the fish jumps clear out of the water. It's an exhilarating experience in the beauty of the Rockies.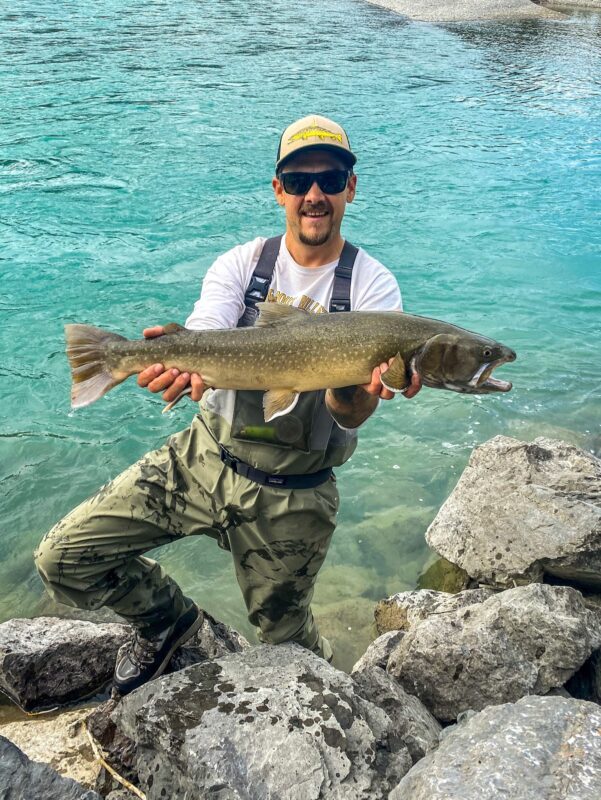 I want any and everyone to feel included and welcome when fishing with Optimal Angling. Allow me to show you how to enjoy the perfect day out on the water or ice in the mountains. If you want to catch fish in the Bow Valley and surrounding areas, or are just looking for the ultimate day of letting loose and seeing the landscape from a unique point of view, then look no further. I've invested in the latest and best equipment for you to have the best chance to catch fish after fish. I'm out on the water on a daily basis, and have spent countless hours researching so I can put you in the right places to catch the most fish possible. Call me to discuss your guided fishing trip today! Thanks for reading and I hope to meet you all soon.

Tim Caron
President
Optimal Angling Co.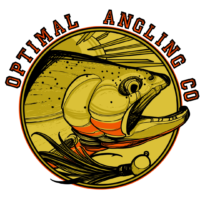 Optimal Angling Co offers all four seasons of fishing in Canmore and the Bow Valley. Let them show you how to enjoy the perfect day out on the water or ice in the mountains.