TASTE OF THE HIGHLANDS | THE CANMORE HIGHLAND GAMES | THE CANMORE CEILIDH | SEPT. 3rd & 4th
Bring your family and meet your friends at the premiere Celtic festival in Alberta. Experience the traditions…witness Celtic culture at its best! Thrill to the sounds of the pipes beneath the peaks of the Rocky Mountains.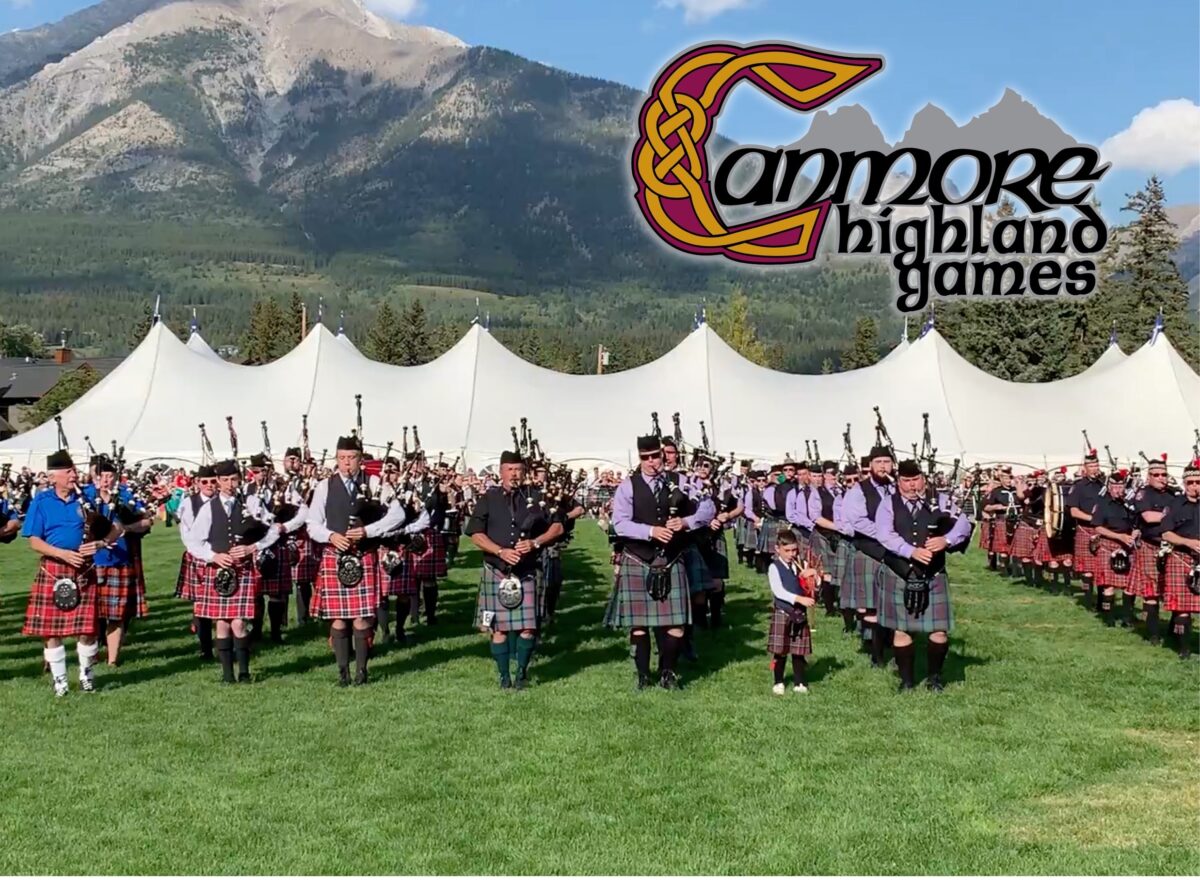 The weekend of Celtic Culture, filled with dancing, games, Pipers, drinks, good food, and cheer is happening Sept. 3 & 4th at the Canmore Highland games.


Featured events are as follows:
Taste of the Highlands: Enjoy an evening of wine, scotch, beer and food tasting with local and international wines, whiskies and brews from some of the world's most celebrated producers. The Celtic lounge atmosphere features experts available to share their knowledge as you taste your way from booth to booth. Appetizers served up by some of Canmore's finest restaurants.
Canmore Highland Games: Join us for a full slate of events comprising the Highland Games! Celtic market, clan tents, food vendors, Heavy Sports, Tug of War, Pipe Bands, Highland Dancing, live Celtic music, Scotch tasting, beer garden and more.
Schedule of Events

7:30 AM

Pancake Breakfast – Spring Creek Festival Tent
8:00 AM

Heavy Sports desk opens (SW corner of park)
Celtic Market booths open
8:30 AM

Highland Dance Registration opensSE corner of park

Heavy Sports Contest begins SW corner of park

Individual Piping & Druming Competition begins(Various stations in main field west of the school)

9:00 AM

Highland Dance Competition morning events to begin
10:00 AM

British Car and Motorcycle Show opens (SW area of site)
Beer Garden opens in the Spring Creek Festival Tent with entertainment by Fraid Knot
Food trucks (field) and Games Food Booth (in festival tent) open
11:00 AM

Tug of war registration (at P & D Tent), west end of Main Field
12:00 PM

Sheep dog demonstration by Gary Bissell, Main Field, times to be confirmed.
12:40 PM

Kids Tug of War, Main Field (2 boys teams, 2 girls teams)
1:00 PM

Official opening ceremonies – Canmore Highland Games (ATCO Stage, Main Field)
1:30 PM

Highland Dance Competition afternoon events begin
Pipe Band Competition begins on the Main Field
Adult Tug of War Heats on Main Field
Beer Garden entertainment continues with live music by Banda Taverna
First Whisky Tasting (Scooter's Bar at the north end of the Spring Creek Festival Tent) tickets available at Games Retail Booth, and Spring Creek Festival Tent
3:30 PM

Second Whisky Tasting (Scooter's Bar at the north end of the Spring Creek Festival Tent) tickets available at Games Retail Booth, and Spring Creek Festival Tent
4:45 PM

Adult Tug of War final contest, main field
5:00 PM

The Amazing Highland raffle draw
Massed pipes & drums of the Canmore Highland Games
Official closing ceremonies and awards for Piping and Drumming.
6:00 PM

See you at the Ceilidh (big kitchen party) with headliners the Mudmen in the Spring Creek Festival Tent

The Canmore Ceilidh: Translation - Big kitchen party with live entertainment, food and beverages held in the Festival Tent. This years' headliner is the Canadian Celtic rock band, Mudmen, performing LIVE!
Get your Tickets for the individual events or purchase a bundle for a full weekend of fun!
ADVANCE TICKETS AND BUNDLES AVAILABLE
Tartan Day and the Highland Games bring Canmore together to celebrate Scottish independence and culture.