The Grande Kitchen: A Hidden Family Treasure
The Grande Kitchen + Bar is a beautiful modern restaurant located within the Grande Rockies Resort. Both Breakfast and Dinner are served daily. Some notable breakfast items include eggs benedict with hollandaise made fresh to order, traditional French style omelets made with free range eggs and more.

The drinks list can accommodate a wide range of tastes whether you are looking for a unique wine selection, delicious cocktails or local beer on tap.

Many locals have taken note of specials offered throughout the week including Rib Mondays, Burger Tuesdays, Wine Wednesdays and Pasta Thursdays.

Apart from the restaurant, The Grande Kitchen offers Catering for events within the resort and off-site as well.
The Grande Kitchen + Bar restaurant, a division of Waymarker Hospitality Group, is owned and operated by Executive Chef Air Bouphasiry, his wife Sous-Chef Nok Bouphasiry and his daughter, Cristina Bouphasiry-Fraser the General Manager.
Chef Air has built a well-established career in the past 40 years. His hard work as a young man led him to work for some of Edmonton and Calgary's most notable restaurants such as The Westin, La Caille on the Bow, and Osteria de Medici. With a Red Seal under his belt, much of his knowledge and skills perfected in Classical French and Italian fare, he then decided to fulfill his endeavors and open a restaurant of his own.
The concept. French and Italian cuisine with a touch of Asian flair, a homage to his roots.

A first generation immigrant to Chinese parents, Chef Air grew up in Laos for the first 18 years of his life before fleeing political disarray and finding refuge in Canada. One of his signature dishes the Thai Salmon Pasta boasts a bit of his history. A lightly tempura battered filet of Salmon, atop a bed of linguini, tossed in a spicy Thai basil, coconut curry cream sauce.
With determination and family by his side, he opened Infusion Contemporary Cuisine. A beautiful, charming old cottage nestled in trees in the heart of Bragg Creek. It soon became a hotspot for many intimate weddings and held a strong base of regular cliental for almost 13 years. Sadly, the devastating flood of 2013 destroyed the restaurant and was never re-built.

Following the flood, the family moved on to open another location in the South of Calgary. During this time, they had befriended an owner with Waymarker Hospitality, and a partnership was born. This proceeded the family to Canmore where they embarked on their third venture, The
Grande Kitchen + Bar.
Hours of Operation
Monday 8am-1pm/5pm-9pm
Tuesday 8am-1pm/5pm-9pm
Wednesday 8am-1pm/5pm-9pm
Thursday 8am-1pm/5pm-9pm
Friday 8am-1pm/5pm-10pm
Saturday 8am-2pm/5pm-10pm
Sunday 8am-2pm/5pm-9pm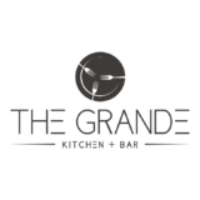 Head Chef of The Grande Kitchen + Bar, Air Bouphasiry, and his team have crafted a menu that blends Eastern influences and classical French and Italian cuisine. This approachable and global menu features both traditional and unique items for breakfast, lunch, dinner and drinks, ideal for sharing with friends and family beneath the spires of the Canadian Rockies.