The Obvious (and not so obvious reasons) for taking an Avalanche Safety Training Course
There are numerous reasons why winter recreationalists should take an avalanche course. These reasons range from the obvious to the not so obvious and this article will explore some of the less obvious. The obvious reasons are well promoted, advertised, and proven but for the sake of making sure the good word is spread, those obvious reasons will be addressed first.
The most apparent is safety. Having avalanche equipment, knowing how to use it and being educated on snow, weather and terrain can save your life. One of the primary lessons of a beginner avalanche course is minimizing avalanche risk by limiting exposure to more avalanche prone areas. Making good terrain and group decisions is critical. Should the unforeseen occur and an avalanche hits, having the right skills and equipment can save a friend or a loved one's life. And finally, good education will make for a more enjoyable backcountry experience when you feel confident in your decisions and abilities.
With that being said, let's focus on some of the other benefits a recreational avalanche course can provide. The first one is that a basic avalanche course, such as the AST 1 in Canada, presents more comprehensive outdoor winter training. Obviously, the focus is on providing the curriculum for this course, but several other key outdoor topics are discussed. These include terrain selection (taking the easiest and safest route), hazard awareness (being trained to look up and assess what is above you), and weather observations (both in the field and recent weather). Summer, winter or any other time of the year, these are all good skills to develop. Despite what most people think, avalanches don't only happen in the winter or during forecast periods. Early season, shallow snow avalanches are very common in the mountains in the fall. Late spring and early summer can produce large cornice or solar triggered avalanches well beyond when typical avalanche bulletins are posted. Recreational avalanche training really is an extension of any other outdoor training you may have received and has applications beyond just navigating avalanche terrain in the winter months. You'll likely be surprised at how much you have learned about general decision making in an outdoor environment

Another more obscure reason to take an avalanche course is that you will undoubtedly find that having avalanche training by professionals opens up your options for skiing, snowshoeing, and snowmobiling. Any smart backcountry companion isn't likely to invite you on that really cool hut trip or fun snowshoe traverse if you don't have avalanche training. If your buddy gets buried, you will be relied on to dig them out. An educated partner knows their skills mean absolutely nothing if they are buried a couple of feet down and their friends have no clue how to find and rescue them. Having recreational avalanche training is fast becoming a pre-requisite to being accepted on many outdoor group excursions. Take a course, get educated, practice the skills and you might just find more people will be willing to have you along on winter adventures.

Finally, while it is a course and you do spend a day indoors learning theory, taking an avalanche course is a great winter adventure. You spend a full day outside and will no doubt meet other people who have similar interests and are keen to learn the same skills. For many people, an avalanche course is their first real winter backcountry experience. The backgrounds of those taking avalanche courses has changed over the years. Ten years ago, most AST 1 students were experienced backcountry enthusiasts who spent many days outdoors in winter and only after having a scare or being encouraged by a friend, then took a course….today, more people are getting the message and taking training before they duck the ski line or venture out on snowshoes. So, unless you are the exception, you will probably find everyone else in the course is at the same level as you and they will be keen to get outdoors and practice their new skills.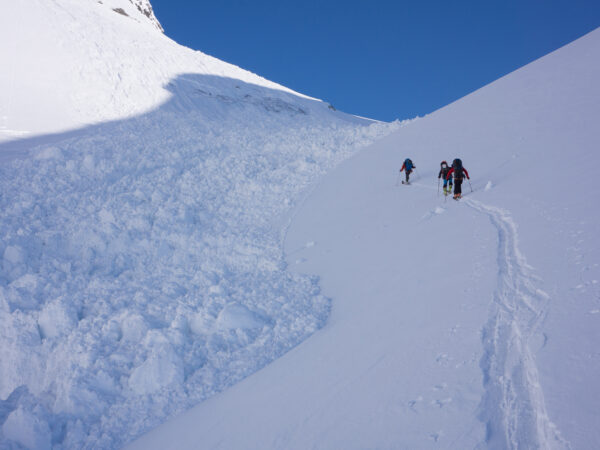 We hope this article reinforces your interest in and reasons for taking an avalanche course. At around $200, beginner avalanche courses are truly some of the most economical outdoor training you will ever receive. In Canmore, Calgary, Banff and Roger's Pass, Yamnuska Mountain Adventures offers AST 1 and AST 2 training courses almost every weekend in the winter. All of Yam's instructors are certified guides and avalanche forecasting professionals.  We hope to see you out there this winter.
Located in Canmore, Alberta at the Banff National Park gates, we are a premier provider of mountaineering, ice climbing, rock climbing, backcountry skiing, avalanche training and trekking experiences in the Canadian Rockies.
---
---
---