The Shrine Church of Our Lady of the Rockies invites Pilgrims to visit and celebrate Mass at the the newly completed Church
After many long years of planning and work, the Shrine Church of Our Lady of the Rockies Parish is now completed. Many thanks go out to the Steering Committee for guiding and keeping the project on track, to Ron Boruk, architect of Calgary, for the beautiful design, Norr Architecture and Modco Construction for implementing and building and to all the many donors and trades who gave their time, talent and treasure.
Bishop McGrattan consecrated the New Church with a Dedication Mass held May 30th, 2020. Original plans were to have 500 invited guests for this Mass but due to covid-19 restrictions, Bishop McGrattan, Fr. Nathan Siray, a few clergy and the Seeds of the Word Sisters participated in the ritual Mass, which was live streamed with thousands attending virtually.

Parishioners and Pilgrims alike are finally able to visit and celebrate Mass in their new church. We wish to give a gratitude of thanks to Our Lady of the Snows Catholic Academy for housing the weekend Masses while the new church was being built.
Due to Covid- 19 attendance restrictions, Mass attendees must register for the Mass they wish to attend, volunteer positions for those Masses, needed for them to take place, may also be registered on line at our Parish link below.
Photo's by David Curry (Drone Shot) and Orange Girl (Church Interior).
Due to Covid-19 everyone visiting or attending Mass must wear a mask. For Tours, to donate , or more info please see www.rockiesparish.com.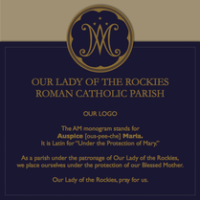 We are in the process of building our new church to be called The Shrine Church of Our Lady of the Rockies.
---
---