Wapiti Sports & Outfitters-The Bow Valley's Fishing Headquarters!
This local, family-owned fishing and hunting store, is celebrating 33 Years in business in the Town of Canmore! And a family feel is evident when you visit their shop. Each member of the Wapiti Team has extensive knowledge of the area and many have lived in Canmore their entire lives.

You see they love what they do!
Owner Nick with a beautiful bull trout caught and released on the Bow River
A visit to Wapiti is a must whether you are a Canmore local or a visitor to the area. Spend time at this one of a kind fly shop, and you will leave even more excited to fish our beautiful Bow River and mountain lakes, then when you arrived! Whether you are an experienced angler or new to the sport, the staff at Wapiti can set you up with the gear and tips needed for a great day on the water. Friendly, knowledgeable and passionate about the outdoors - and they are always willing to help or share a fish story or two 😉
And some of their reviews say as much!
What are some common questions asked at Wapiti?

What type of fish can be caught in the area?

The world famous Upper Bow River is home to a variety of fish species including brown trout, bull trout, brook trout, lake trout and Rocky Mountain whitefish.

Stocked ponds are stocked with rainbow trout.

Upper and Lower Kananaskis lakes are fun to fish for cutthroat trout, bull trout and rainbow trout.

There are a variety of species in our area!
Nick with a happy client who caught and released this Bow River Brown trout.
Where is a good place to fish with kids?

Ponds recently stocked with rainbow trout (May and June 2022)

Grotto Pond is a small pond located not far from Canmore located just off the 1A.

This pond is regularly stocked with rainbow trout and popular with families.

Sibbald Pond is a small pond is located along Highway 68 (Sibbald Creek Trail).

Limits for stocked lakes, 5 Trout of any size. Always refer to the Alberta Guide to Sportsfishing Regulations before you head out.
One of Wapiti's youngest and most enthusiastic customers 😉
Where can I purchase a fishing licence?

Stop by Wapiti, both Provincial and National Park fishing licenses are available to purchase.

Alberta Sportfishing Licences can also be purchased online. https://www.albertarelm.com/licensing.page
Do you offer guided trips?

Absolutely. Our most popular guided fishing tour in the summer months is the Bow River Float and Wade. A day on the beautiful Bow River, with our experienced guides in our Clackacraft drift boats is an experience you won't forget. We also offer Bow River Walk and Wade Trips.

Our guides are professional, knowledgeable and our customers say they are genuinely fun and positive people to be around! Our clients can't believe how well our guides know the river… and where the fish live!

Fly fishing, spin fishing or both- guides come prepared for a great day on the water. All gear and waders provided.

Full and half day options available.

https://wapitisports.com/guided-fishing-float-and-wade-trips/
Guide Dale providing fly fishing instruction during a half day Bow River guided trip.
Happy client with this brown trout he caught and released on the Upper Bow on his guided trip.
I am interested in learning to fly fish, what do I need to get started?
A fly rod
A fly reel
Fly fishing line, which consists of: backing, fly line, a leader, and a tippet.
A few flies of course!
What does Wapiti carry in store?
quality brands
Fly rods and reels
Waders and boots
Spinning rods an reels
Fly and spin fishing gear
Flies
Bear spray
Hats
Sunglasses
Clothing
Archery Gear
Knives
Firearms
Packs
Freeze dried food
Much more!
Visit Nick, Aaron, Myles, Cam & Dale at 1506 Railway Ave, Canmore!

403-678-5550
[email protected]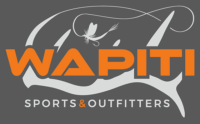 Celebrating 33 years in business, Wapiti Sports and Outfitters is the Bow Valley's Fishing Headquarters.