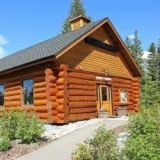 During its heyday in the early 1900s, the Canmore Opera House was one of the town's most important gathering places. it was the center of community spirit in Canmore.
At Spring Creek, a replica version of the original building is available for bookings, special events, family gatherings, private groups, meetings and weddings. A small log from the original Opera House was included in it's construction.
Click on the website link for images (see if you can spot the original log...) , more information and reservations, currently subject to COVID restrictions.
Location
400 Spring Creek Drive
Canmore, Alberta
T1W 0C8